Founder-Art Director
---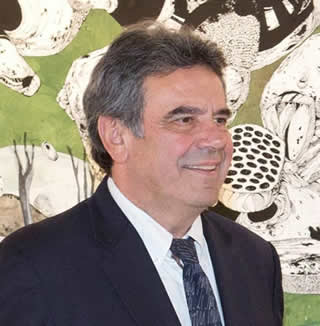 ---
Pantelis Tsatsis was born in Serres in 1952.
He studied Electronic Engineering in Athens, Greece, Economics and has a Master's Degree as a CRM Administrator
His relationship with painting began from an early age as a painter and later as a collector.
At the same time, his love for art led him and his wife, Eva Apostolidou, to the founding of the ARTFORUM Gallery, in 1983. The successful course of the gallery with the participation of Greek and foreign artists established the gallery as one of the most remarkable galleries in Greece. Among the artists who have collaborated with the gallery are: Theodoros, Fokas, Kottis, Xenos, Xonoglou, Tanimanidis, Helmut Newton, Marianovic, Takis, Polymeris, M. Garoudis, M. Manousakis, I. Lassithiotakis, D. Xonoglou, A. Antonopoulos, Michaeledes, Karras, Tsoclis.
ARTFORUM Gallery has participated with its artists in many Art Fairs abroad. These include: Arco Madrid, Shanghai Art Fair  China, Art Miami, Art Jonction Nice, Art Forum Berlin, and Art Athina, where he has been a member of the selection committee for participating galleries, as well as, a member of the Pan-Hellenic Association of Art Galleries (PSAT) for eight years.
His art activity in Greece is also important. Regional galleries were established by him, in Mykonos, Symi, Athens and Skiathos. He organized the Sani Festival in Halkidiki and also the Old Slaughter House, the abandoned old slaughterhouse in Ouranoupolis, which was converted into a Cultural Center and finally a multi-purpose space in Vilca, that was the biggest art gallery in Greece (700 sqm), with participations from internationally renowned artists.
After years of activity in the field of Arts, his inquiring mind led him to create in 2015 the Art-Thessaloniki International Contemporary Art Fair, in collaboration with TIF-HELEXPO and a team of volunteers.
The Art-Thessaloniki International Contemporary Art Fair, is now a statute, for Greece and abroad and is considered as the most important Art Fair in the southeastern edge of Europe.
---