Visual Artists Alumni Association of Fine Arts Thessaloniki, "παρα/sites"
---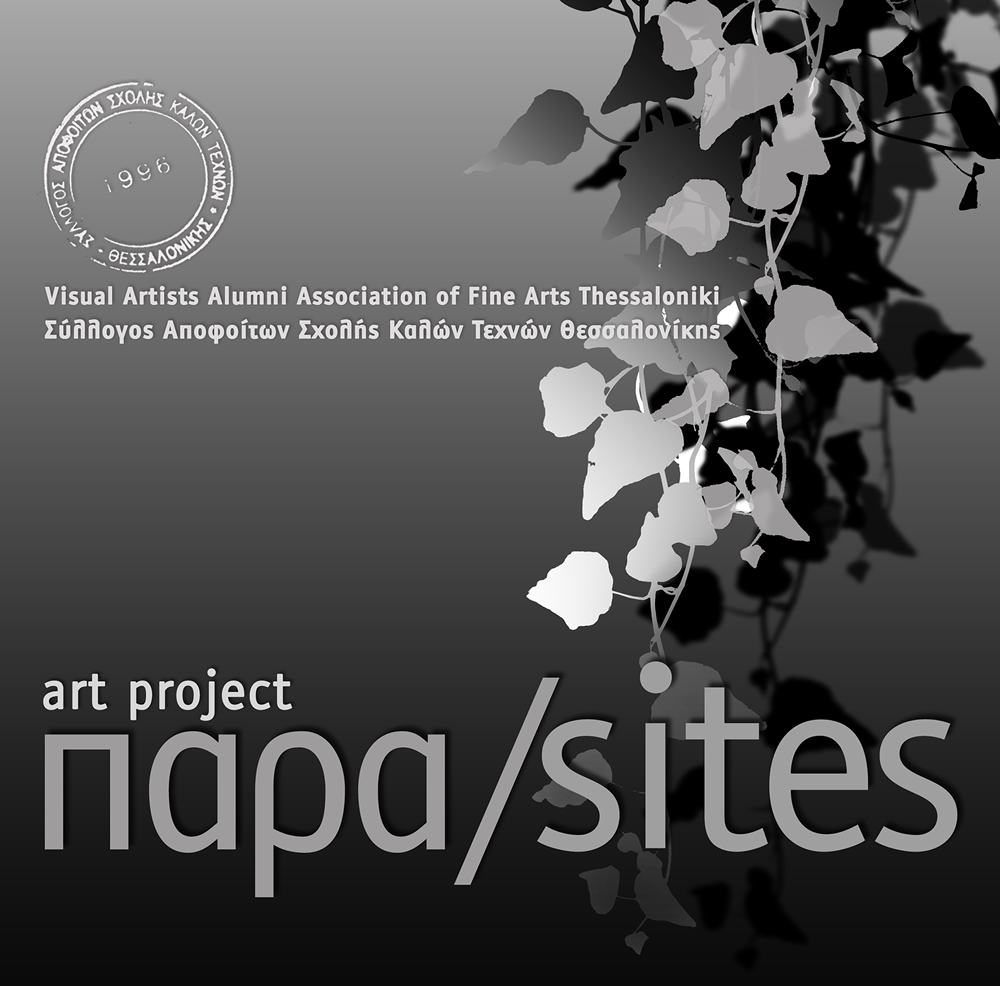 The Art  Project  παρα/sites is a group installation, where 43 artists, members of Visual Artists Alumni Association of Fine Arts in Thessaloniki,  engage in a dialog with their artworks side by side, by using the emblem of ivy."...
Everyone, dwelling in the center of his own existence, evolves precariously towards the others's arrangement, shaping his own stigma and validating the adolescent fantasy of an ideal and harmonious coexistence.
A hermetically sealed individual world is inconceivable.
As plants can grow in one direction where something valuable lies for them (like a fence, soil or a support, even if it not visible) we reach a point of cohabiting as a necessary condition.
We are entangled in a close relationship between people and objects or other actions, in order to be happy and why not, gain mutual benefits. 
Probably, the dialogue between humans with different points of view or wisdom is not yet impossible. This is underlined by a more careful observation of the laws of nature ... "
---
Maria Alvanou, Lilla Agrafioti ,  Zefi Athanasopoulou,  Eirini Baka,  Dimitra Christodoulou, Eva Charalampidou, Elena Chatziathanasiou,  Rodia Dimitresi, Dorothea(Samanidou),  Tati Douvana, Dimitra Bozi, Fani Fotiadou,  Rania Fragkoulidou, Borislava Georgitseli, Lucy Gavriilidou, Christiana Iliopoulou-Hopirtean, Magdalini Kafetzopoulou , Pepi Karagiannaki,   Mariana Kizou, Chrysa Kofina, Dafni Koumantsioti ,Galini Kriaridi, George Lepidas, , Theodore Lalos,  Kate Lialiampidou, Voula Lioliou, Agapi Mavroudi, Christina Michou, Florisa-Ioanna Nasi, Stella Papadopoulou, Maria Papatzelou, Athanasia Papatzelou , Aikaterini Pavlidou, Zografia Popoli, Efrosini Sapiridou, Zoi Tsilveli,  Eleni Tzekou, Ηaralampos Toumpekis Maria Tsahouridou, Terpsihori Xanthopoulou, Katerina Xipolitou,Eleni Zeftaki, Ioanna Zikidou.